Safewire FZ-520
Product Detail
Product Tags
Quick Details
Model: FZ-520
Place of origin : Zhejiang ,Wenzhou,China
Rated Current :10-25A
Type: floor socket                                                                    Current Type: AC
HS Code:8536690000                                                        Frequency:50Hz~60Hz
Grounding:Standard grounding                                       Voltage:110~240V
Color :Black                                                                             Market standard: Customized
Brand Name : Safewire or OEM brand                             IP:44
Application:
Mini-columns is designed for your home/office furniture/professional offices/Hotels/libaries/training rooms/meeting rooms and conference halls networking systems. These Box included(Electric power/Data and Voice/TV(HDMI) and optical Fiber….etc.) for all your need. It offers an ideal solution for all those places where connections are frequently made, making it possible for the area to kept clear.
Office and education
Industry and Engineering
Presentation and retail;
Orientation and safety;
Transit areas and parking;
Hotels, hospitality and wellness;
Health, sport and leisure;
Art and culture;
Customization of modular:
Switches
Protection(fused/thermal switch)
Power outlets;
Data jack;
USB charger;
Packaging & Delivery
Inner packing box
Outer exporting carton
Output Electrical Outlet/ Liftable socket/vertically installation socket/pop up socket
1)  Features:
1)   Connection is simple and made on the Mini-columns in upper position . The unit is then hidden under the desktop, enabling the modules to come out push& pull the opening.
2)   Pre-configured modles are supplied with electrical bases assembly of 45*45mm modules direct clipping for easier installation. In this way, the Mini-columns can be installed on the table and connected directly to the nearest work post without the need for preliminary cabling.
3)   Enables the connection of 4 to 8 modules.
4)   Fast open push & pull system.
5)   Suitably installed into 80mm grommet hole;
(4) Characteristics:
Output Electrical Outlet/ Liftable socket/vertically installation socket/pop up socket
| | |
| --- | --- |
| Brand | Safewire |
| Item | FZ-520 |
| Application: | Residential ,Industrial or public |
| Color: | Silver/Black |
| Material: | Zinc Alloy/Steel |
| Type: | Push and pull socket |
| Frequency: | 50HZ-60HZ |
| Grounding: | Standard Grounding |
| Voltage: | 90-260V |
| Rated Current: | 10~15A |
| Available modules: | 45*45mm Type series |
 5.Our service: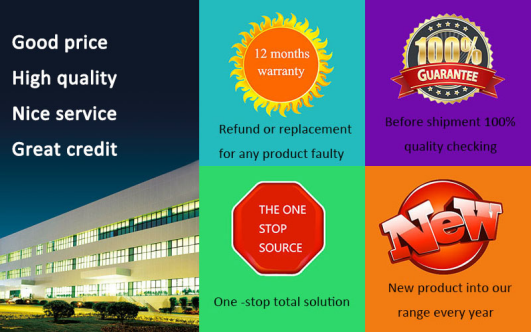 Product Show: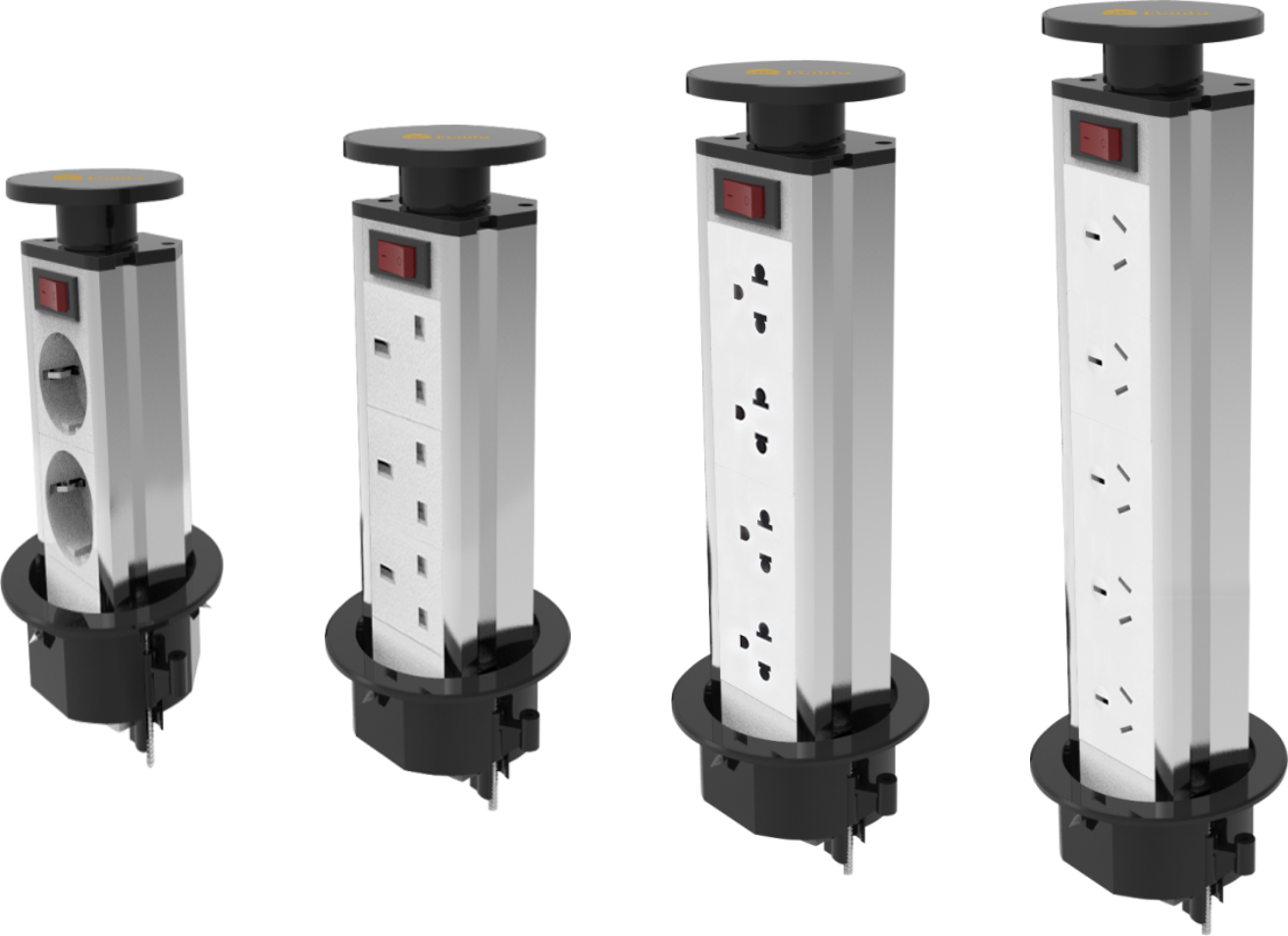 FZ-520 Outline drawing: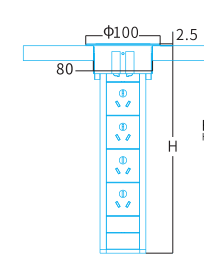 Available sockets or modules types: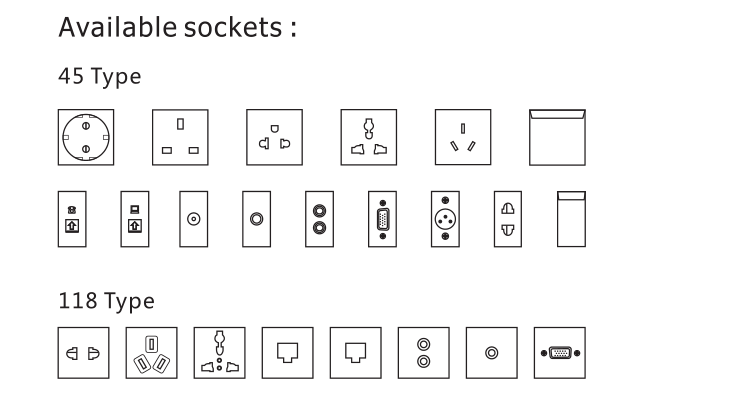 More International sockets is customization:

| | | |
| --- | --- | --- |
| Serial No. | Parameter | Description |
| 1 | Product picture |       |
| 2 | Panel Material | Aluminum alloy/PC plastic |
| 3 | Surface finish | Painted/Oxygenated |
| 4 | Panel Dimension(mm) | φ100 |
| 5 | Cutout(mm) | φ80 |
| 6 | Dimension of product(mm) | 120×252 |
| 7 | Capacity of modules /Interface size | 8 ways 45*45mm modules |
| 8 | Configuration | Power outlet+Data outlet or USB charging : Customized as required |
| 9 | Cable length | 1.5m, 2m,3m or required length |
| 10 | IP Rating | IP Rated 22 |
7. Process flow:
we apply ERP data management system , greatly increased the management in plan ,purchase, storage , manufacture and sales .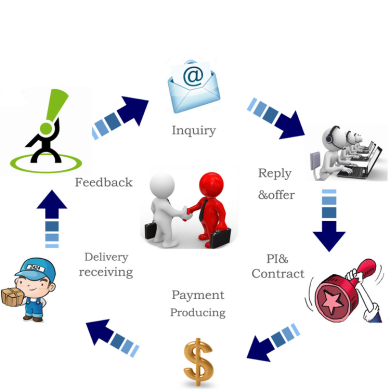 8.About us:
Wenzhou Safewire Electric Co.,Ltd is a company specialized in the manufacture and sale of items in the field of electrical installation material and goods. We embarked on the relentless pursuit of being the biggest supplier with over 30,000 square meters building areas in China as we are engaged in producing and selling high-quality wiring systems produced in accordance with international standards. Our factory was recognized through ISO9001,ISO14001,OHSAS18001. And also be 3rd quality certification such as CE and SASO etc.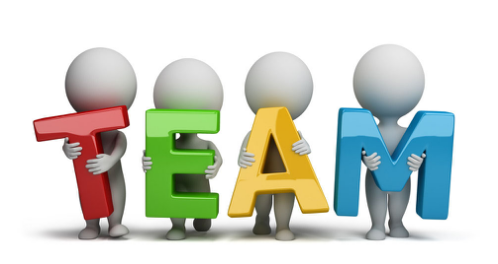 Happy He – General Manager:happyhe@safewirele.com;
Mr. Zhou -VP:info@safewirele.com;
Olivia Yang – Market:mkt1@safewirele.com;
Zuo Juan-Sales :sales1@safewirele.com;
FAQ:
Q:Do you have literature we can have?
A:Of course, we can post out a brochure or you can download it along with data sheets direct from here
Q:Do you manufacture all products yourself?
A:We manufacture all of our core product ranges ourselves as a proud best China manufacturer. A small number of our ancillary products are brought in from trusted partners also mainly China based.!
Q:Do all of your products comply to National standards?
A:Our products meet China National standard ,IEC standard and the relevant national standards such as SASO
Q:What lead times do you offer?
A:
Lead time is dependent on many factors including type of unit and quantity required. We stock an extensive range of core product in a number of sizes that can be available 14 working days.Lead time indications are stated on quotations, but by all means feel free to ask for up to date information.
Q:Can I request a specific delivery time/day?
Safewire will always endeavour to meet our customer's requirements and hit special delivery times every day
Q:Can I request a technical specification?
Please contact us to request a technical specification or product certification.Email address:info@safewirele.com;                      
Q:How long is the warranty on your products?
There is a 12 month warranty from date of delivery.  In the event of any failure, items must be returned to Safewire for full investigation.   
Q:What is your products installation?
There are various methods of fixing for each unit – a member of the quotes team can talk you through the options or you can view them on the website.                                                 
Q:Can you send me a price list?
As there are so many variations of specification possible for each unit – We can send you brochure or you can download it from the website.  Please contact the Quotes Team direct for pricing.         
Q:How much will it cost?
This will vary on the unit and the specification of the unit, please either call a member of the quotes team or complete the online form.      
Q:Can I request a sales visit or a visit to your factory?
Please contact us to request a visit from us or to our Head Office address: No.152 Xinggua Road, Xinggua industry zone, Liushi town, Yueqing,  Wenzhou,China ,325604;                             
Q:Can I request a sample from Safewire?
Safewire are happy to supply sample to our partners, please contact us directly to discuss your request.                                 
Q:Can I request sales and marketing material?
Safewire are continually investing in their sales and marketing material, please contact us directly to discuss your requirements.             
Q:How long make a sample?
A:
Within 7 working days upon receipt of confirmed order and payment for standard product. Customization product order should be confirmed between us.
---
Previous:
Safewire FZ-508
Next:
Safewire FZ526
---