FZ-521WF-S
Technical Parameters
Features
Outline drawing
LVD test report
Application
Product Tags
| | | |
| --- | --- | --- |
| Serial No. | Parameter | Description |
| 1 | Panel Material | Aluminum alloy |
| 2 | Surface finish | Electroplated/Painted/Power sprayed |
| 3 | Panel Dimension(mm) | 340*130 |
| 4 | Cutout(mm) | 328*116 |
| 5 | Height of product(mm) | 75 |
| 6 | Bottom box size(mm) | 325*114 |
| 7 | Bottom box material | Plastic |
| 8 | Capacity of modules /Interface size | 9 ways 45*45mm modules |
| 9 | Configuration | Wireless charger+Power outlet+Data outlet or USB charging : Customized as required |
| 10 | Cable length | 1.5m, 2m,2m or required length |
Wireless charger parameters
| | | |
| --- | --- | --- |
| Serial No. | Parameter | Description |
| 1 | Recognition function | QC2.0/QC3.0/DC source |
| 2 | Compatible Standard | WPC-Qi V1 2.4 |
| 3 | Rating | 110K HZ~205HZ, 5VDC,+_5% |
| 4 | Output | 1A/1.1A 5VDC/9VDC;+-5% |
| 5 | Distance of transmitter and receiver | 2mm~6mm |
---
Previous:
HTD-626AS-86
Next:
FZ-517B
---
1.This hidden structure provides the user with a compact, clean and convenient connectivity solution;
2.Made from die-casting aluminum alloy and painted ;
3.Wireless charging function as per QI standard;
4.With brush to protect cables from scratch;
5.Bigger capacity international 45*45mm modules.
6.More plug top clearance 45/90 degree angle when plug into receptacle.
Available sockets or modules types: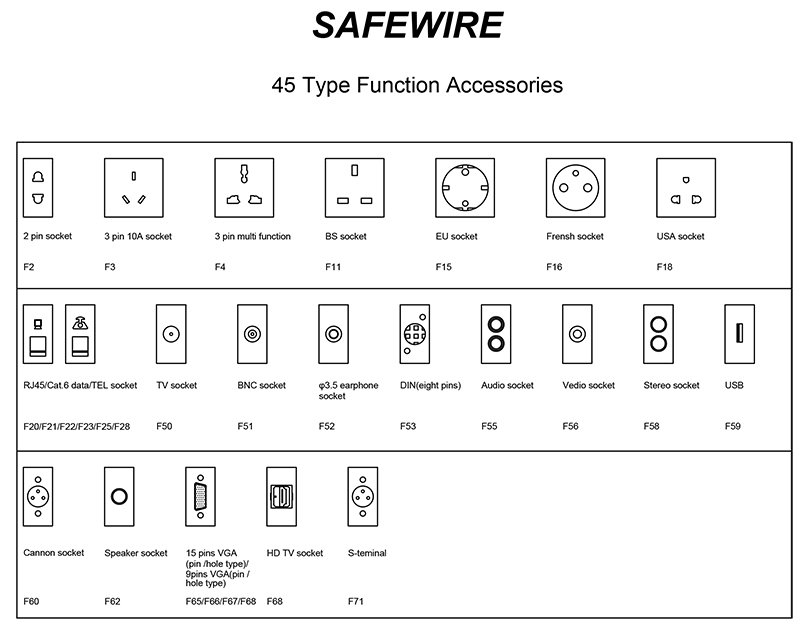 Wireless charger module Features
1.Short circuit protection;
2.Overcurrent protection;
3.Over temperature protection;
4.Prarasitic metal object Dect.
5.Disnormal object Dect.