Safewire XJY-USB-27B-A-A
Technical Parameters
Product Tags
Technical parameters:
| | | |
| --- | --- | --- |
| Serial No. | Parameter | Description |
| 1 | Model | XJY-USB-27B-A-A |
| 2 | Panel Material | PC |
| 3 | AC input Frequency | 100-240V/AC 50-60HZ |
| 4 | AC input | 100-240V |
| 5 | USB output voltage | DC 5.0V |
| 6 | USB output current | 2.1A |
| 7 | Color | White |
| 8 | Panel Dimension(mm) | 50*50 |
This Wall Charger Adapter with Dual USB Outlet allows you to charge / power 2 x USB devices  in one socket. It can meet charge needs of various devices such as iPad and tablet PC.2.1A Max.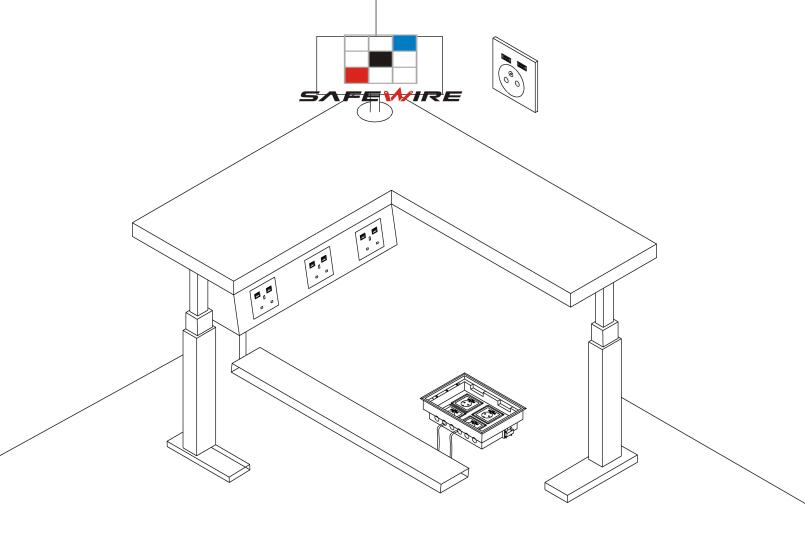 Application:
 embedded into the wall

 into desktop socket

into floor box
Feature :
Voltage withstanding: above 3KV;

Lightning protection level: 3K

With identifying chip: can automatically recognize different mobiles and suit its request charging AMP to meet the charging speed;

Energy saving: Reach European power consuming Level 6;

With overload Lcurrent and over voltage protection.

Output ripple VPP <200mV. (connected phone response is fast while the phone while charging)

Automatically cut off after fully charged and not continue to charge the phone.

More life reliablity: over 5 years.




Testing Item

Testing Standard

Testing Data

Aging test

USB charger for 2 hours with LED lights must always light

2 hours

 

High and low pressure 90V-264V to normal operation

90V-264V normal

Power test

Rated output voltage range: no-load: 5V±5%, load:5V±5%

No-load: 4.92-4.95V, load: 5.04-5.1

 

Rated output current

5.0V

 

Output ripple: load 1A/2.1A, Vpp<200mV

117mV-146mV

 

Short circuit protection: output positive and negative short for 2 minutes, after the break to work properly

2 minutes

 

Pin output voltage: D-: 2.75VDC/D+:2VDC, subject to actual test value

D-:2.77V/D+:2.763V

Pressure test

Under normal climatic conditions, the input and output terminals should withstand the corresponding voltage(USB-10, 101 series for the 1500V, the other is more than 3000V), Generally every test a minute without breakdown flashing phenomenon was qualified, and leakage≤5mA.

3000V

0.68mA-0.69mA

Insulation resistance test

In the normal temperature environment, AC input plug and DC input plug between the input DC500V, 1 minute after the insulation resistance of 7 trillion or more

∞

Grounding resistance

In any case the resistance shall not exceed 100mΩ

 

Temperature rise test

At room temperature 30℃rated work, the charger rated for 2 h after the measurement of its shell surface temperature change <1℃/ h that the temperature is stable, this time measuring the surface temperature of its shell <50℃

Pass

Limit load

Test the product load current limit can run the load value

pass
XJY-USB-27B-A-A Outline drawing: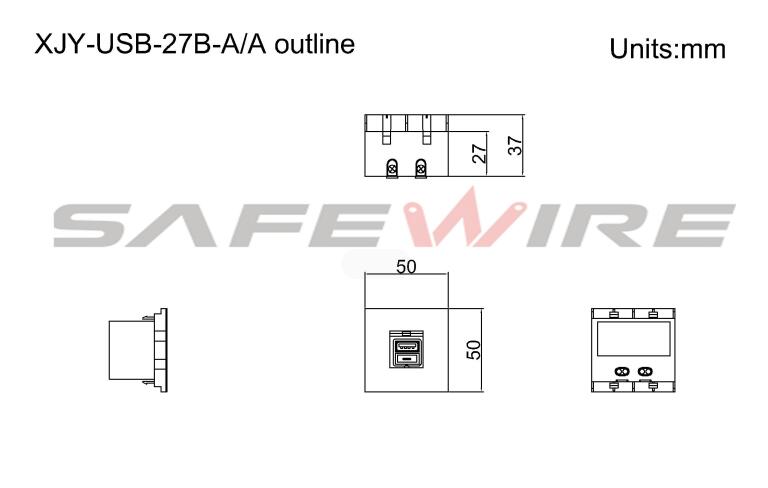 Safety Warning:
For indoor use only.

This product must be installed/wired by a qualified electrician.
 Attentions:
Protect children from touch skirt of USB port.

Ensure current and voltage as rating current/voltage .Do not overload

Prevent from corrosive liquid, gas (strong acid, strong alkali, paint)and humidity.
---
Previous:
XJY-USB-12B-C
Next:
Safewire XJY-USB-12B-C
---