F1042A/A
Technical Parameters
Feature
Outline drawing
Application
Product Tags
| | | |
| --- | --- | --- |
| Serial No. | Parameter | Description |
| 1 | Panel Material | PC |
| 2 | AC input Frequency | 100-240V/AC 50-60HZ |
| 3 | AC input | 100-240V |
| 4 | USB output voltage | DC 5.0V |
| 5 | USB output current | 4.2A |
| 6 | Color | White |
| 7 | Panel Dimension(mm) | 45*45 |
---
Previous:
FZ-532B
Next:
XJY-USB-17J
---
(1)Voltage withstanding: above 3KV;
(2)Lightning protection level: 3K
(3)With identifying chip: can automatically recognize different mobiles and suit its request charging AMP to meet the charging speed;
(4)Energy saving: Reach European power consuming Level 6;
(5)With overload Lcurrent and over voltage protection.
(6)output ripple VPP <200mV. (connected phone response is fast while the phone while charging)
(7).Automatically cut off after fully charged and not continue to charge the phone.
(8). More life reliablity: over 5 years.
| | | |
| --- | --- | --- |
| Testing Item | Testing Standard | Testing Data |
| Aging test | USB charger for 2 hours with LED lights must always light | 2 hours |
|   | High and low pressure 90V-264V to normal operation | 90V-264V normal |
| Power test | Rated output voltage range: no-load: 5V±5%, load:5V±5% | No-load: 4.92-4.95V, load: 5.04-5.1 |
|   | Rated output current | 5.0V |
|   | Output ripple: load 1A/2.1A, Vpp<200mV | 117mV-146mV |
|   | Short circuit protection: output positive and negative short for 2 minutes, after the break to work properly | 2 minutes |
|   | Pin output voltage: D-: 2.75VDC/D+:2VDC, subject to actual test value | D-:2.77V/D+:2.763V |
| Pressure test | Under normal climatic conditions, the input and output terminals should withstand the corresponding voltage(USB-10, 101 series for the 1500V, the other is more than 3000V), Generally every test a minute without breakdown flashing phenomenon was qualified, and leakage≤5mA. | 3000V0.68mA-0.69mA |
| Insulation resistance test | In the normal temperature environment, AC input plug and DC input plug between the input DC500V, 1 minute after the insulation resistance of 7 trillion or more | ∞ |
| Grounding resistance | In any case the resistance shall not exceed 100mΩ |   |
| Temperature rise test | At room temperature 30℃rated work, the charger rated for 2 h after the measurement of its shell surface temperature change <1℃/ h that the temperature is stable, this time measuring the surface temperature of its shell <50℃ | Pass |
| Limit load | Test the product load current limit can run the load value | pass |
This Wall Charger Adapter with Dual USB Outlet allows you to charge / power 2 x USB devices in one socket. It can meet charge needs of various devices such as iPad and tablet PC.4.2A Max.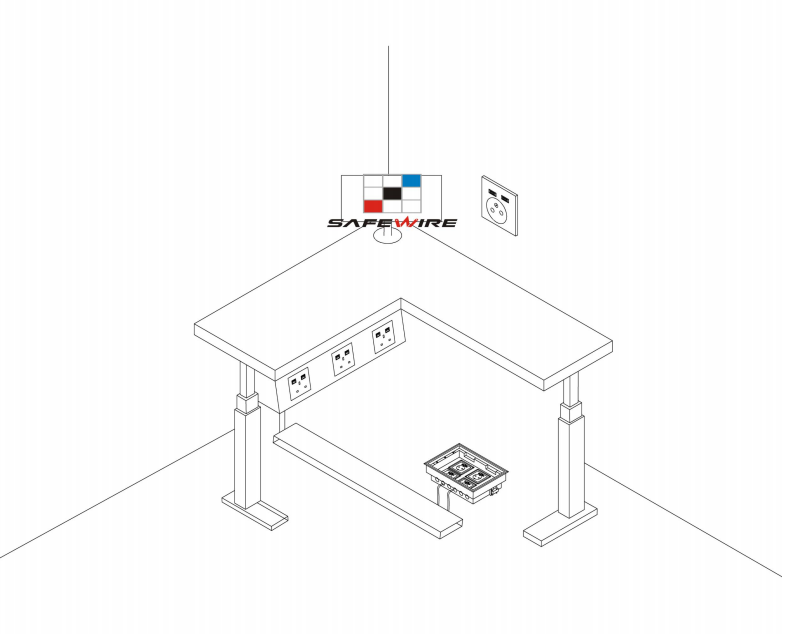 1.embedded into the wall.
2.into desktop socket.
3.into floor box. 
Safety Warning:
1.For indoor use only.
3.This product must be installed/wired by a qualified electrician.
 Attentions:
1.Protect children from touch skirt of USB port.
2.Ensure current and voltage as rating current/voltage .Do not overload
3.Prevent from corrosive liquid, gas (strong acid, strong alkali, paint)and humidity.