Safewire FD777
Product Detail
Product Tags
Quick Details
Model: FD777
Place of origin : Zhejiang ,Wenzhou,China
Rated Current :10-25A
Type: floor socket                                                   Current Type: AC
HS Code:8536690000                                      Frequency:50Hz~60Hz
Grounding:Standard grounding                     Voltage:110~240V
Color :golden or sliver                                         Market standard: Customized
Brand Name : Safewire or OEM brand            IP:55
| | | |
| --- | --- | --- |
| Serial No. | Parameter | Description |
| 1 | Item | FD777 |
| 2 | Application: | Residential ,Industrial or public |
| 3 | Panel Material | Brass alloy/stainless steel etc |
| 4 | Color: | Golden, sliver, black, red, etc. |
| 5 | Surface finish | Wire drawing/Polishing/Spray painting |
| 6 | Grounding: | Standard Grounding |
| 7 | Damping device (DP): | Only normal Pop-up without damping device |
| 8 | Available modules: | Type 45*45mm series |
| 9 | Panel Dimension(mm) | 143*136 |
| 10 | Cutout(mm) | 120×114 |
| 11 | Capacity of modules /Interface size | 4 ways modules |
| 12 | Bracket material | Zinc Alloy & Alu Alloy |
| 13 | Sink box Material | Steel+Zinc plated |
| 14 | Sink box Thickness: | Ga steel/1.2mm |
| 15 | IP Rating | IP Rated 55 |
| 16 | Static Pressure force | Over 1000N |
Application:

l Office and education
l Industry and Engineering
l Presentation and retail;
l Orientation and safety;
l Transit areas and parking;
l Hotels, hospitality and wellness;
l Health, sport and leisure;
l Art and culture;
Installation instructions:
Remove the panel from the bottom box along with the electrical modules.
Fix the flooring with spare screws on the bottom box and place it in the embedded hole.
The flooring surface shall be at least level with the ground or 20mm below the ground.
Remove flooring surface ,Insert the 10–12mm lead head into the terminal of floor box.
Fix the panel to the bottom box with screws.
Attentions:
Dispose of trash in bottom box and prevent dirt and debris from entering inside.
The sealing ring is closely attached to the smooth surface to prevent water leakage.
Prevent from alkaline corrosion and humidity.
When installing, pay attention to the opening direction,the length of the conductor to the bottom box shall not exceed 10cm,Set aside at least 200mm of cable.
When installing and wiring,Product should avoid direct contact with corrosive liquid, gas (strong acid, strong alkali, paint).
This product is suitable for dry surface treatment, avoid water flush and immersion, and ensure its insulation
Avoid acid alkaline solution flushing,avoid scratch of transparent protective paint,ensure corrosion resistance.
Method of use:
Hold the lid down with your hand,Pull the push button as the direction, Panel popup.
1) Features: 
Nice appearance and safety design for floor management

:

Super quality Ultrathin plate with most options of surface color to decorate the upscale starred hotels, villas, first class residential apartments.
Protect strumbling: Flush mounting on floor and protect children stumbling comparing with other pop up floor socket.
IP55 protection:Connection cable and power supply with coverplate to ensure IP55 protection level.
Rotating modules mechanism: Provide more contact deepth of insert plug/connector as modules rotating over 45 degree. Furthermore, this rotating modules mechanism will enhance lifetime of modules as keep stabilization of modules frame.
More strong scratch resistance: Stastic pressure over 1000N.
Protection of cable exit: Soft silica pad seal will protect cable exit from scraching from coverplate of floor boxes.
(2) Advantages :
1. More Strong Scratch Resistance: Surface finish made from stainless steel or Brass by combination of tough material, Aluminum (ADC12) and shot blast finish on the surface achieves high scratch resistance.Stastic pressure over 1000N.
2. More higher IP protection: Reach IP55 protection level.As per IEC60529/EN60529 for low voltage device safety standards, IP55 mean the first digital No. of " 5" for dust-tight enclosure protect this dust no more than diameter of 1mm entry and the second digital number of "5" for protect waterproof for splash entry into.
3.High quality socket receptacle:Using elastic phosphor copper avoids playing spark plug and plug set to bit dead ,ensure high conductivity and more life of pulling and plugging over 15000 times.PC+ABS(1.Modules fireproof : 850 degree C temp.; 2.Modules don't distortion under 102 degree C temp.; 3.Stand under 15 degree C temp) ;Oxygen Insulation & Fire resistance in accordance with UL94 international standard.
4.Long lifetime of push button: More than 5000 times of push button.
5.More soft and slow damping device:The damping speed of our device is 10 times slower than simliar products.
6. More heavy duty of bottom boxes:Thickness of bottom boxes is over 1mm.
FD777 Outline drawing: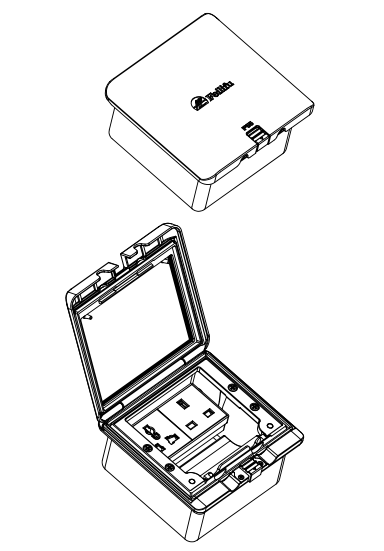 Available sockets or modules types: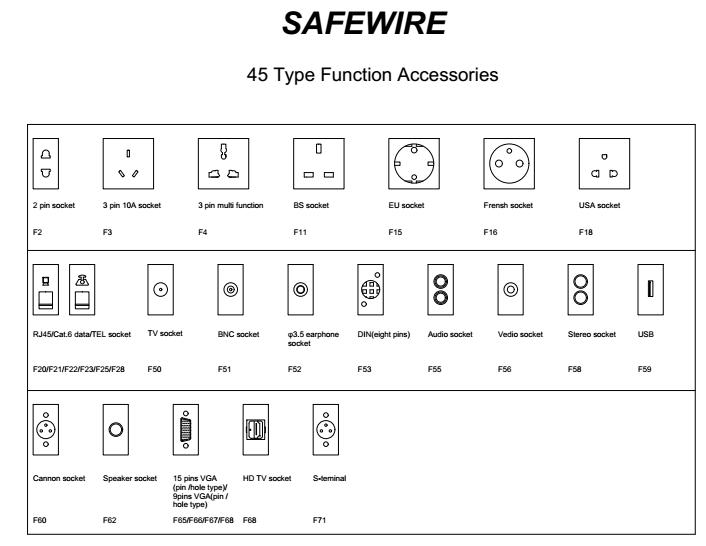 ---
Previous:
Switch socket 9023SPL
Next:
safewire HTD-622AS/SS/SP
---