Safewire HTD-1/1L
mankhwala Mwatsatanetsatane
Video
Tags mankhwala

Quick Details
Model: HTD-1
Place chiyambi: Zhejiang, Wenzhou, China
Rated Current :10-25A Type: floor socket
Current Type: AC HS Code:8536690000
Frequency:50Hz~60Hz Grounding:Standard grounding
Voltage:110~240V Color :golden or sliver
Market standard: Customized Brand Name : Safewire or OEM brand

IP:44
| | | |
| --- | --- | --- |
| Siriyo No. | chizindikiro | Kufotokozera |
| 1 | gulu Zofunika | Mkuwa aloyi / Alu aloyi |
| 2 | pamwamba pa mapeto | Waya zojambula / kupukuta / Utsi kupenta |
| 3 | Gulu gawo (mm) | 120 * 120 |
| 4 | Cutout (mm) | 103×103 |
| 5 | Capacity of modules | 3 zigawo njira |
| 6 | zakuthupi bulaketi | Nthaka aloyi & Alu aloyi |
| 7 | Sink bokosi Zofunika | Zitsulo + nthaka yokutidwa |
| 8 | Kumira bokosi makulidwe: | 1.2mm |
| 9 | Mukhozanso zigawo: | 45*45/45*22.5(mm) |
| 10 | Damping chipangizo (DP): | Normal Pop-up & Soft Pop-up available |
| 11 | N.W(kg) | 0.89(Brass alloy);0.72(Alu alloy) |
| 12 | G.W(kg) | 18.6 (Brass alloy);15.2(Alu alloy) |
| 13 | Carton size(cm) | 44x28x27.3 |
Application:

Office ndi maphunziro
Makampani ndi Engineering
Kupereka ndi ritelo;
Lathu ndi chitetezo;
m'madera mulendo ndi magalimoto;
Hotels, alendo Ubwino;
Health, masewera kusangalala;
Art ndi chikhalidwe;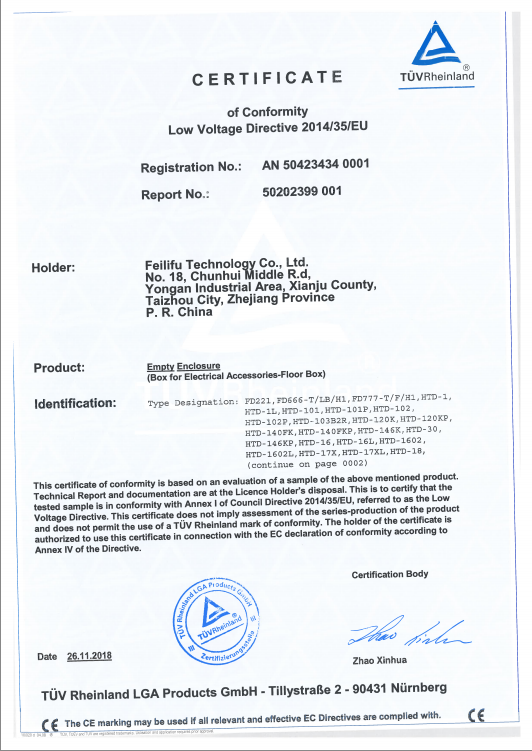 CE certificate by TUV,Germany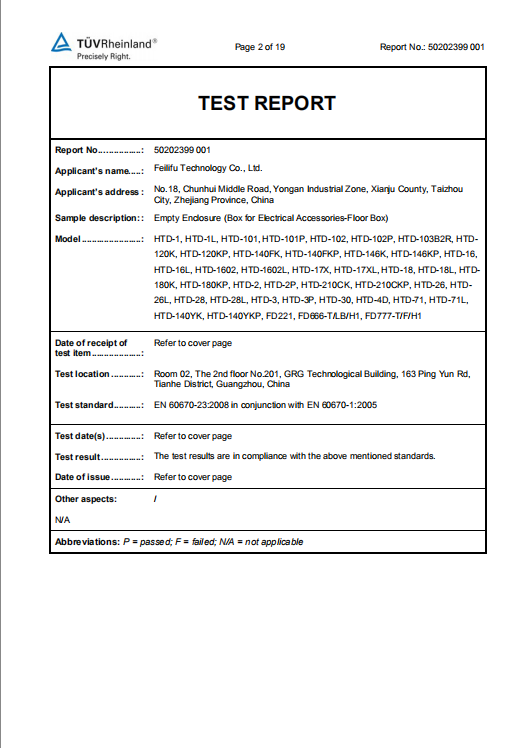 LVD test report
Features:
1.Easy to install: Fast connect wire for terminal block as fast wiring connection.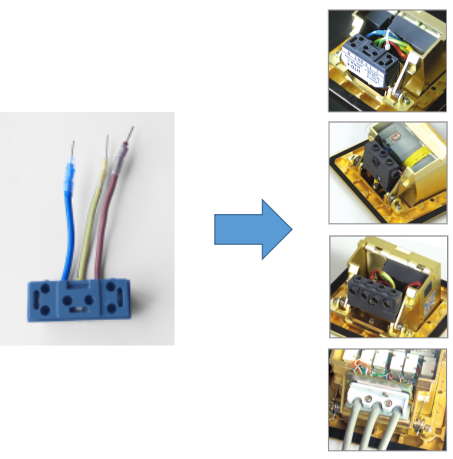 2. More Strong Scratch Resistance: Surface finish made from Brass(H62) by combination of tough material, Aluminum (6061) .
3.durable socket receptacle:Using elastic phosphor copper , high conductivity ,pulling and plugging over 15000 times.PC+ABS fireproof : 850 degree C temp.; Oxygen Insulation & Fire resistance in accordance with UL94 standard.
4. Long lifetime of push button: ,more than 5000 times of push button.
5.More soft and slow damping device:The damping speed of our device is 10 times slower than simliar products.Our damping have been patented

6.More heavy duty of bottom boxes:Thickness of bottom boxes body is over 1mm.
Available for F type 45*45mm type or D type23*26mm international sockets or modules types: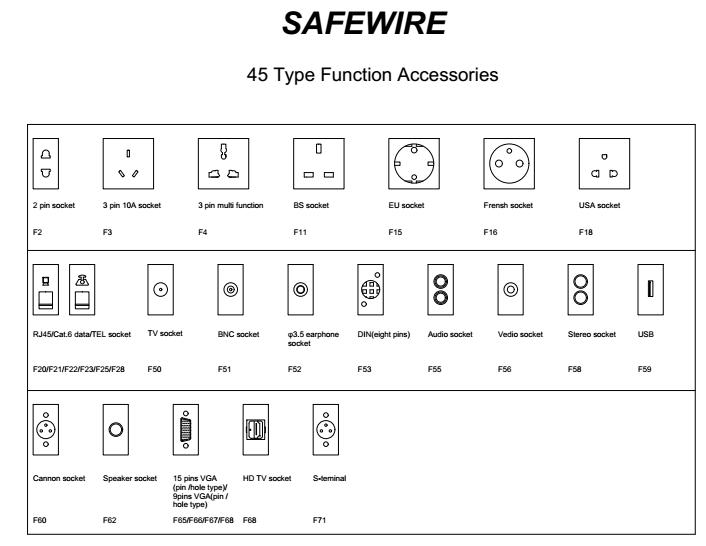 Package:20 Pcs inner box into a master carton.Poly bag with box packing.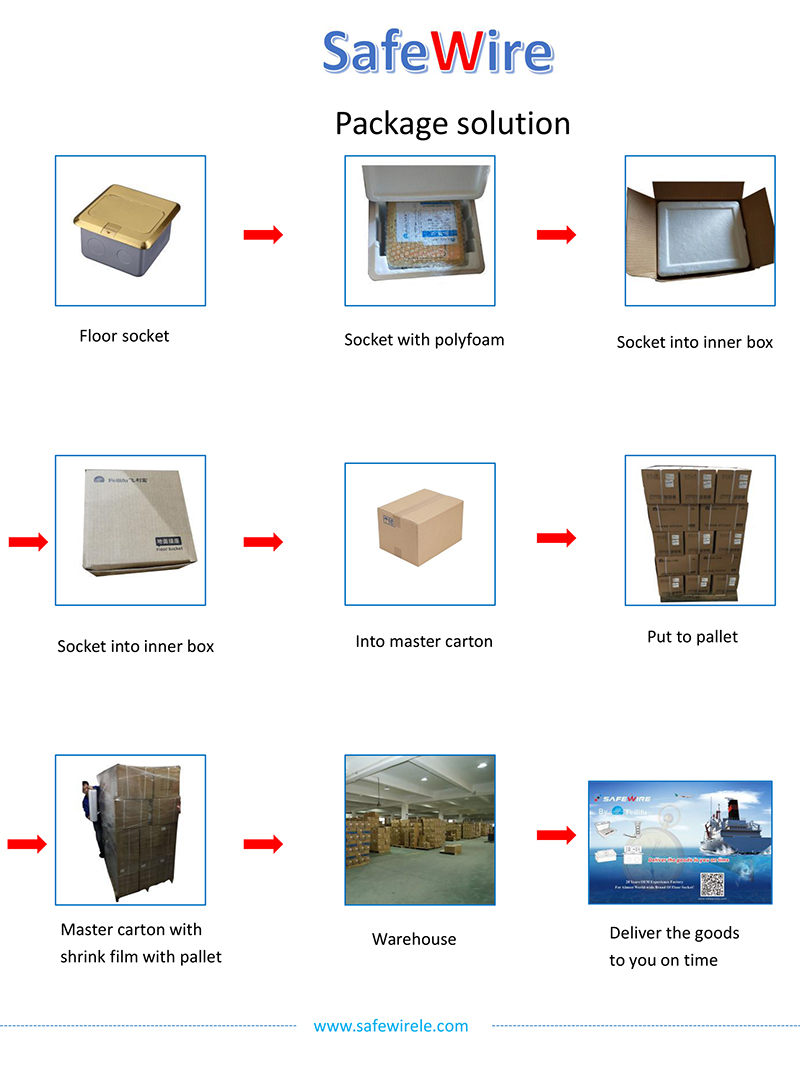 Installation Guide
Cut out size

:

120*120mm.Install the bottom box with panel into the specified location.

Screw mounting frame and panel(for desktop only).
Fix the panel and bottom box with screws(This item is for ground installation only).
ADjust the tightness of all wiring lines (no influence on opening).
Attentions:
1.Dispose of trash in bottom box and prevent dirt and debris from entering inside.
2.Prevent from corrosive liquid, gas (strong acid, strong alkali, paint)and humidity.
3.When installing, pay attention to the opening direction,the length of the conductor to the bottom box shall not exceed 10cm,Set aside at least 200mm of cable.
4. All dimension quoted are nominal only. Drawings , images and text are for illustrative perposes only and product details and dimension are subject to change without notice.
5.Make sure that the sealing under plate will be jointed tightly with the earth's surface,avoiding seepage
Safety Warning:
1.This is a class I product and must be earthed
2.This product must be installed/wired by a qualified electrician
3.For indoor use only.
4.For concrete floor.
---
Previous:
Safewire HTD-7/7L
Ena:
Safewire HTD-103
---