Advantage of company
We always produce and sell the best products since 1998. This 6 points make us difference from others of electric industries in the market. Herewith something about "Safewire" to know more about our advantage.
20 years innovation experience: We always focus on research and design and obtained over 100 patents and technologies. Be the crucial committee member of National standard of floor socket and table socket., which will replace many words of capacity for professional person in industries.
Just-In Time delivery capacity: Over 30000 square meter factory with 300 professional employees. We continuous invest into automatically equipment including process from mould , stamping, processing,polishing, painting to assembly etc. This capacity of over 3000,000 sets/per year will ensure 100% just-in time delivery to our clients.
Reliable quality certificate: Our lab granted by CQC will test every one our product to ensure our excellent quality as per the right standard. It is certificate , not words.
Competitive Price: We always believe in our value and faith is that our partner can always take right product at competitive and reasonable price from us. " Save cost, Save money for you!" be our Safewire faith.
Long-term outstanding credit: We always listen to our clients from Electrical, Electric, Lighting, Furniture, IT and Installation material etc. And help them such as TOP 500 and leader establish high-value and Fast-growth business.
Full range product line and customization solution: We always provided full range product and customization solution to our client. You can see we can offer whatever you want.
Some facilities of key process of Safewire floor socket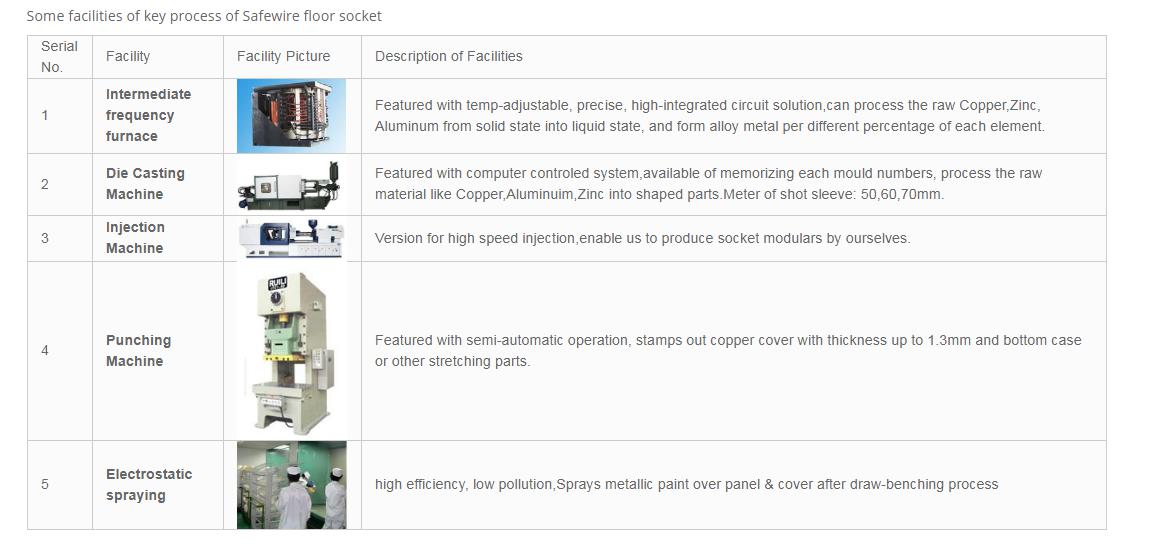 Declaration of conformity
DECLARATION OF COMPLIANCE
RoHS 2011/65/EU
REACH EC/1907/2006
To:   Who will be concern
We declare that our products listed below, are fully compliant with the EU Directive 2011/65/EU on Restriction of the use of certain Hazardous Substances in electrical and electronic equipment (RoHS).
This letter also affirms that our PRODUCTS & PACKING fulfil REACH Regulation of EC/1907/2006, i.e. our products & packing do not contain SVHC, or if there is SVHC, the content is less than the 0.1% (wt/wt) as defined by REACH listed in ECHA website,
See:  https://echa.europa.eu/web/guest/candidate-list-table
If there is SVHC substance >0.1% (wt/wt) in our products & packing, we will issue separate declaration letter to list all those SVHC substances with its CAS No., percentage & weight as well as the information about the safe usage of them.
As REACH regulation is updated every 6 months, for the changes afterwards, such as the addition of SVHC, it's our liability to ensure our continued compliance as the regulation evolves.  If products become non-complaint, we are obligated to issue an updated declaration letter to you for safe use and handling of the products.
Finally we are willing to provide RoHS & REACH  test report for our product, issued by independent testing laboratory immediately upon request by your esteemed client.
Technology sample
Our products been installed in the following places: