Safewire HTD-16
Product Detail
Product Tags
Quick Details
Model: HTD-16
Place of origin : Zhejiang ,Wenzhou,China
Rated Current :10-25A
Type: floor socket                                                                 Current Type: AC
HS Code:8536690000                                                     Frequency:50Hz~60Hz
Grounding:Standard grounding                                    Voltage:110~240V
Color :golden or sliver                                                        Market standard: Customized
Brand Name : Safewire or OEM brand                           IP:44
Application:
The Safewire pop-up outlets are perfect for situations where aesthetics are vital and space is a premium. They are an ideal complement for desk, boardroom tables, reception areas, retail counter where a limited number of outlets are required. This product is best suited for bench and desk top use but may be used in flooring.
l  Office and education
l  Industry and Engineering
l  Presentation and retail;
l  Orientation and safety;
l  Transit areas and parking;
l  Hotels, hospitality and wellness;
l  Health, sport and leisure;
l  Art and culture;
Packaging & Delivery
Inner packing box
Outer exporting carton
floor box,floor socket,power socket,floor socket outlet,floor socket box,Floor connector,floor mounted sockets,Floor receptacle,Pop up Floor Socket ,Pop up  Outlet Box,Damped socket,Floor Reticulation
1)  Features:
Nice appearance and safety design for floor management:Super quality Ultrathin plate with most options of surface color to decorate the upscale starred hotels, villas, first class residential apartments.
Open floor outlet adopts big press sheet and it is easy to start.
Easy One-Touch Installation: Dismount mechanism with invention patent work as dismount central hold down strip which is more convenient for replaceing modules accessories.
(2) Advantages and Features:
1. More Strong Scratch Resistance: Surface finish made from stainless steel or Brass by combination of tough material, Aluminum (ADC12) and shot blast finish on the surface achieves high scratch resistance.
2. More easy to replace or dismount accessories:Dismount mechanism work as dismount central hold down strip which is more convenient for replaceing modules accessories.
High quality socket receptacle:Using elastic phosphor copper avoids playing spark plug and plug set to bit dead ,ensure high conductivity and more life of pulling and plugging over 15000 times.PC+ABS(1.Modules fireproof : 850 degree C temp.; 2.Modules don't distortion under 102 degree C temp.; 3.Stand under 15 degree C temp) ;Oxygen Insulation & Fire resistance in accordance with UL94 international standard.
 Long lifetime of push button: More than 5000 times of push button.
More soft and slow damping device:The damping speed of our device is 10 times slower than simliar products.
6. More heavy duty of bottom boxes:Thickness of bottom boxes is over 1mm.
(4) Characteristics:
floor box,floor socket,power socket,floor socket outlet,floor socket box,Floor connector,floor mounted sockets,Floor receptacle,Pop up Floor Socket ,Pop up  Outlet Box,Damped socket,Floor Reticulation
| | |
| --- | --- |
| Brand | Safewire |
| Item No. | HTD-16 |
| Color: | Golden, sliver etc. |
| Material: | Brass alloy, stainless steel etc. |
| Application: | Residential ,Industrial or public |
| Type: | Floor socket |
| Frequency: | 50HZ-60HZ |
| Grounding: | Standard Grounding |
| Voltage: | 90-260V |
| Rated Current: | 15 |
| Available modules: | Type 45,43,120,118,128,American GFCI series |
| Damping device (DP): | Available |
 5.Our service: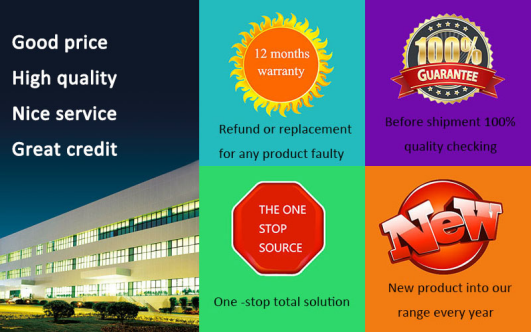 Product Show: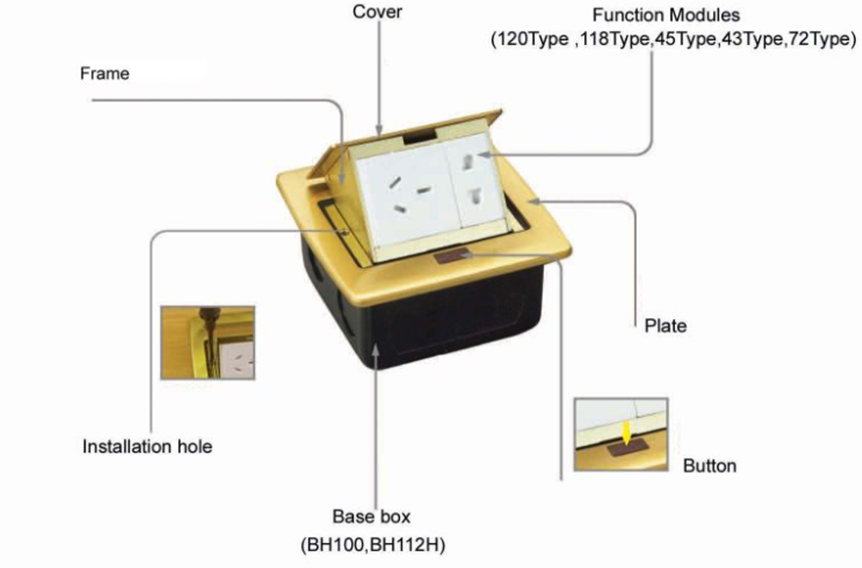 HTD-16 Outline drawing:
Available Terminal block for different wire :
Fast connection terminal: Wire of 1~2.5 m㎡ 
3/4 Screw terminal: wire of 0.5~6m㎡