Advantage of company
We always produce and sell the best products since 1998. This 6 points make us difference from others of electric industries in the market. Herewith something about "Safewire" to know more about our advantage.
20 years innovation experience: We always focus on research and design and obtained over 100 patents and technologies. Be the crucial committee member of National standard of floor socket and table socket., which will replace many words of capacity for professional person in industries.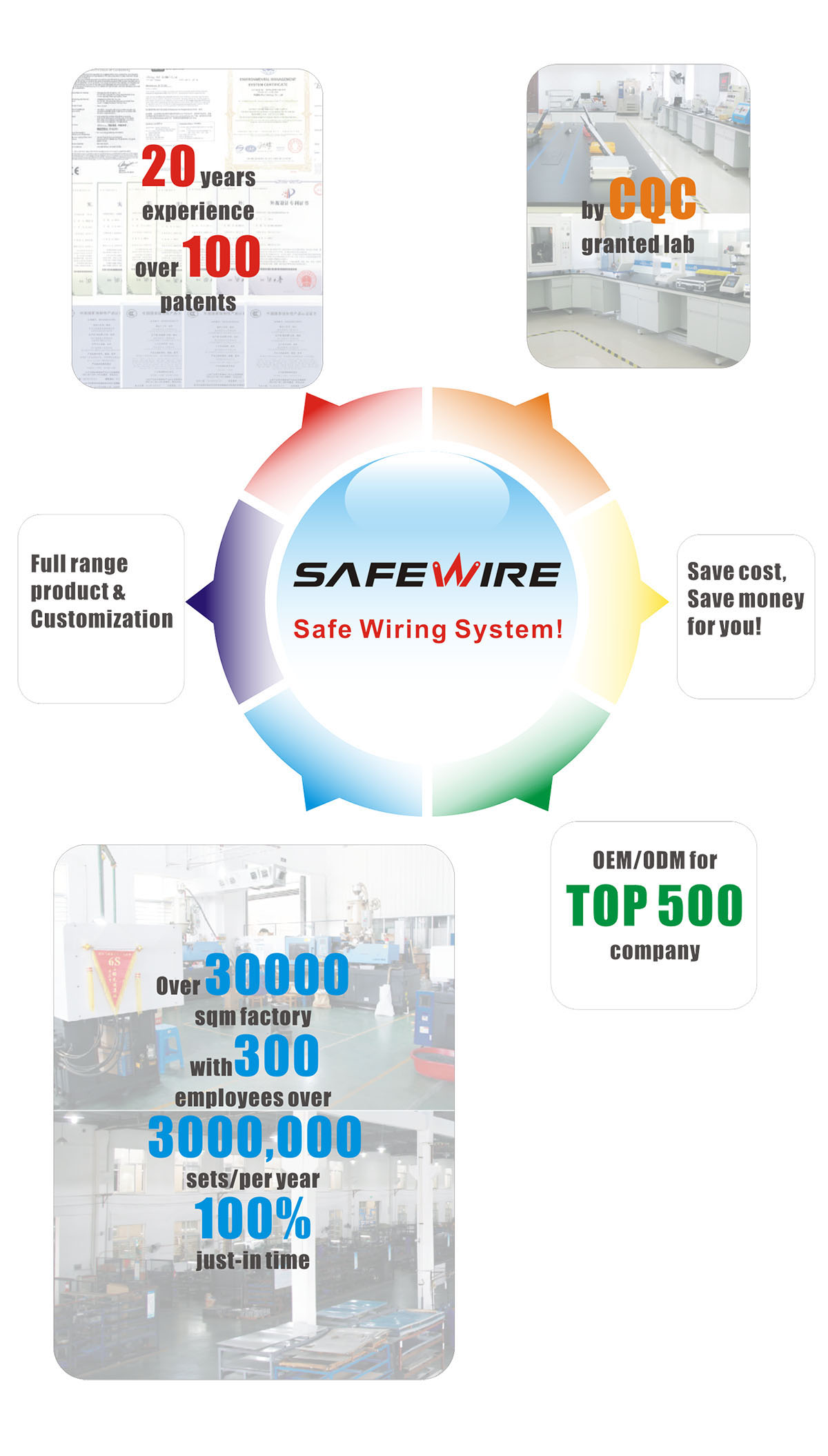 Just-In Time delivery capacity: Over 30000 square meter factory with 300 professional employees. We continuous invest into automatically equipment including process from mould , stamping, processing,polishing, painting to assembly etc. This capacity of over 3000,000 sets/per year will ensure 100% just-in time delivery to our clients.
Reliable quality certificate: Our lab granted by CQC will test every one our product to ensure our excellent quality as per the right standard. It is certificate , not words.
Competitive Price: We always believe in our value and faith is that our partner can always take right product at competitive and reasonable price from us. " Save cost, Save money for you!" be our Safewire faith.
Long-term outstanding credit: We always listen to our clients from Electrical, Electric, Lighting, Furniture, IT and Installation material etc. And help them such as TOP 500 and leader establish high-value and Fast-growth business.
Full range product line and customization solution: We always provided full range product and customization solution to our client. You can see we can offer whatever you want.
Some facilities of key process of Safewire floor socket
Serial No.

Facility

Facility Picture

Description of Facilities

1

Intermediate frequency furnace

Featured with temp-adjustable, precise, high-integrated circuit solution,

can process the raw Copper,Zinc, Aluminum from solid state into liquid state, and form alloy metal per different percentage of each element.

2

Die Casting Machine

Featured with computer controled system,available of memorizing each mould numbers, process the raw material like Copper,Aluminuim,Zinc into shaped parts.

Meter of shot sleeve: 50,60,70mm.

3

Injection Machine

Version for high speed injection,enable us to produce socket modulars by ourselves.

4

Punching Machine

Featured with semi-automatic operation, stamps out copper cover with thickness up to 1.3mm and bottom case or other stretching parts.

5

Electrostatic spraying

high efficiency, low pollution,Sprays metallic paint over panel & cover after draw-benching process